CATCH YOUR MOMENT Foundation
Connecting families touched by cancer with fishing
A Tribute to Daniel Duty & Jacob Landsteiner
Catch Your Moment Foundation is a group of dedicated anglers and professionals connecting families touched by cancer with the therapeutic sport of fishing. The objective of the foundation is to provide peer support with an opportunity to find inspiration, healing connections, and enjoy the outdoors with an experienced angler. Catch Your Moment is a non-profit foundation. All fishing trips and costs incurred are 100% donated and volunteered.
Started by cancer survivor Timmon Lund, who experienced the benefit that fishing provided during treatment. "Friends and family would pick me up and bring me to the lake. Just getting out took me away from what I was faced with and provided a relief that medicine couldn't. Now, this is my way to give back."
"When life gives you lemonade, you make AWESOMENESS!"
Timmon Lund
Each trip is individualized for your desire and needs. Duluth, being in such a unique area, gives us a broad variety of species to best serve you. Our passion is to give you on the best fishing possible! Ultimately we just want to get you or your family away; even if you it is a quick boat ride or to throw a few casts from the dock. Need transportation, lunch, a license? Let us know, Catch Your Moment Foundation has you covered!
TIMMON LUND
Timmon Lund grew up chasing fish of any type but his favorite were muskie and walleye. Diagnosed with Hodgkin's Lymphoma in 2012, fishing was his main outlet. During Timmon's long fight with cancer, his best friend Dan Duty was diagnosed with colorectal cancer didn't make it. In his honor, Timmon began the Catch Your Moment Foundation in 2016. Pursing and sharing his passion of fishing, Timmon now spends around 300 days per year on the water. His desire is to build Catch Your Moment with the intention that it continues to reach people in a positive way long after he's gone.
http://journal.crossfit.com/2016/11/happy-to-be-last-and-alive.tpl
GREG BEACH
Greg Beach is an Angling Instructor and an Outdoor Logistician with Beach Outdoors LLC. Professional Walleye Tournament Angler, Iraqi War Veteran, Husband, and Father of two, round out his resume. Greg is a founding board member, also a coordinator of promotions, marketing, and future operations for the organization. He has lost numerous colleagues and family members to cancer, which provides his motivation to support the Catch Your Moment Foundation.
MEGAHN HOLLENBECK, BSN, RN
Megahn Hollenbeck, BSN, RN is our Outreach Coordinator. She helps promote our mission, find participants, recruit volunteers, and organize events. Megahn worked as a nurse at Children's of Minnesota on the oncology unit and on the Float Team for St. Joseph's Hospital, frequenting the oncology unit. Megahn is a brain tumor survivor and recognizes the need for a therapuetic outlet when going through a complex medical diagnosis. She is excited to bring a smile to cancer warriors young and old, while they "catch their moment"!.
Josh lund
Josh has been the owner of Beaudry Express in Elk River, MN since 2005. Josh has fished professionally since 2014 and currently fishes pro on the Cabela's National Walleye Tour. Josh works with multiple nonprofits fishing organizations like, Fishing for Life, which provide a day on the water for veterans and underprivileged youth. During the off season, Josh can be found at sport shows working with his sponsors and doing fishing seminars for local fishing clubs. Josh's passion is to share his knowledge of fishing with others and get them outdoors.
chris lemke
Chris is a long-time outdoor enthusiast who lives in Two Harbors, Minnesota. For 17 years, Chris was an owner of an Outdoor Connection franchise. As a franchise owner (and also franchise trainer and VP of Marketing) Chris arranged hunting and fishing trips around the world for his clients. Chris also had the opportunity to inspect lodges, outfitters, charters and guides across North America to determine if they would be added to the Outdoor Connection offerings. In addition to Outdoor Connection, Chris was as an inland fishing guide and has has also guided bear and grouse hunters in the woods of Northern Minnesota. For the past 18 years, Chris has been primarily fishing Lake Superior and currently owns a 25 foot Grady White (Gina Marie) operating out of Knife River Marina. Cleaning and cooking fresh fish while cruising on the "Gina Marie" with like minded Lake Superior enthusiasts and helping people catch their first fish on the "Big Lake" are some of Chris' greatest joys in life.
Londell nissen
Londell grew up 9 miles from Lake Sakakawea in Parshall, ND. His passions include fishing, hunting, and any outdoor activities. After graduating from high school, he moved to Bismarck, ND where he is minutes from the Missouri River. Even though he is close to the Missouri River, Lake Sakakawea is his favorite place to fish. He has been in the insurance industry going on nine years. He is married to his wife Lori for 22 years. She is a RN with Good Samaritan Home Care Society. She also has a passion for fishing, gardening, and spending time with her family. Londell & Lori have two children. Allison is a sophomore in college studying to be a nurse like her mother. Allison loves fishing, hunting, and helping others. Brenden is a sophomore in high school and loves hunting, fishing, and has his own lawn care business. My wife and I wanted to start a foundation like this and we were doing research when we found "Catch Your Moment." It was like a God send because "Catch Your Moment" matched exactly what we wanted to do. After many emails and messages with Timmon, we will be starting a chapter in Bismarck, ND. Our mission was inspired by our neighbor's father, Duane, who had brain cancer and just recently passed away. Duane wanted to fish Lake Sakakawea before he passed so we agreed to take him fishing. Duane, his son-in-law, my daughter, my son, and I went out fishing that day. To say the least it was an amazing day, catching lots of fish and laughing a lot. I have never seen a guy as happy as Duane was that day. This was truly God's work and why we are here today to fulfill the mission of a great organization like "Catch Your Moment."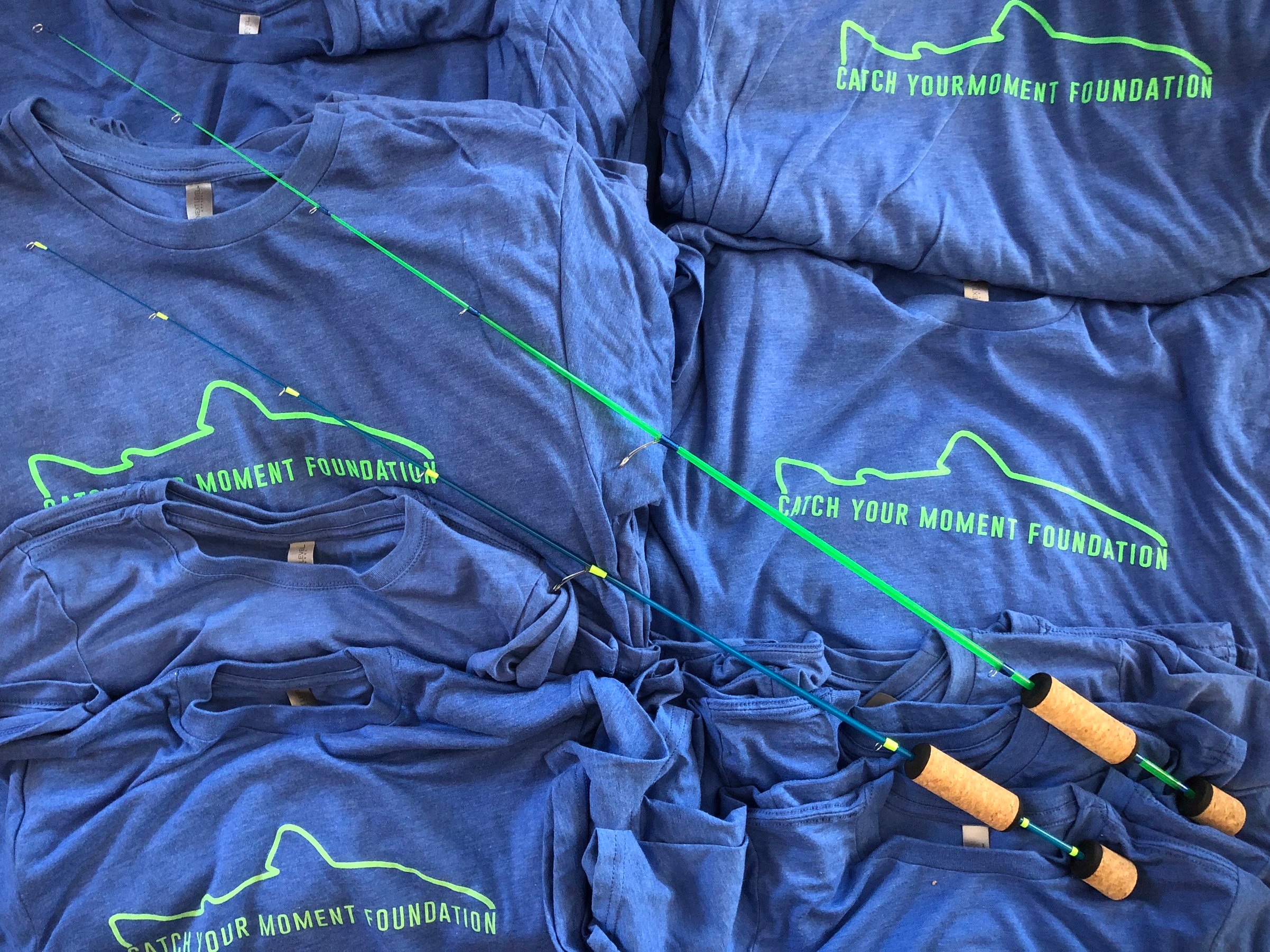 Tribute
Catch Your Moment Foundation is a tribute to Daniel Duty and Jacob Landsteiner. They contributed to many some of the most memorable moments in their lifetime. May their spirit of adventure and love for the outdoors carry on.
daniel Duty
May 14, 1975 - June 06, 2015
Jacob Landsteiner
November 16, 1979 - January 2, 2019
OUr location
7282 Northeast Birch Isle Road
Duluth, MN, 55803
United States
Contact Us
To inquire how to "Catch Your Moment" inqure here.